Ice Fishing 101: The Holey Water
by Tyler Hicks, December 09, 2017
As cold Arctic air settles in across the Northwest many anglers are busy winterizing their boats and storing their tackle for the season. Yet a small but growing contingent of anglers eagerly invite the cold air, ice fisherman. To these anglers there is nothing more sacred than fishing the "Holey Water". I grew up pulling fish through holes in the ice in the Great Plains but much of my adult life has been spent in regions where no opportunity for ice fishing exists. A recent move brought me to in the inland Northwest where I eagerly returned to the hardwater and the experience was as much of a delight today as it was for me some 20 years ago.
The Pacific Northwest and ice fishing are far from synonymous. However, opportunities abound in the Cascades and on the waters of the inland Northwest. The 2016/2017 ice fishing season was one for the record books and this year's season is only just beginning. If you haven't ice fished before make this your first season. Besides how many times do you get the chance to walk on water and catch fish? It's almost a religious experience!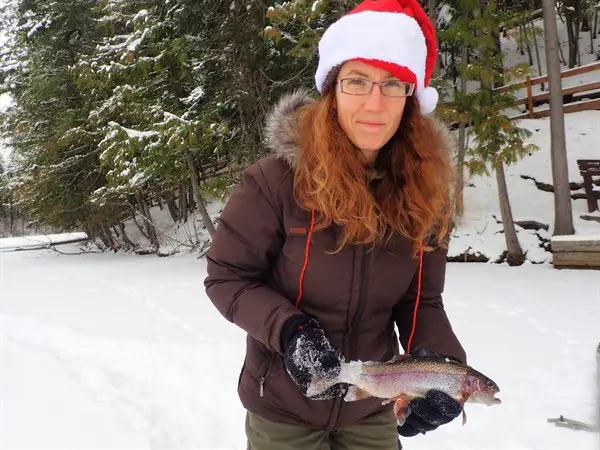 Safety
Seasoned ice anglers know to wait until at least 3-4" of clear ice is formed before venturing out onto the hardwater. White ice has trapped air in it that can weaken the ice and I prefer 4 or 5" of white ice just to be safe. Over 5" of clear ice and you can safely drive a snowmobile on the ice and over 12" you can drive your vehicle on it.
When first testing the ice, especially early and late in the season, I will test its thickness and strength using a heavy steel spud bar. A couple hard thumps on the ice and if I don't punch through I keep moving. Alternatively, I will test drill holes and use the ruler on my ladle to measure ice thickness. If I encounter thin ice I retrace my steps. It's not unusual to find thin spots and still have safe ice not far away. Current, springs, and upwellings can create thin spots in the ice and as a precaution you should always avoid ice fishing on streams and rivers and anywhere these feed into the lakes you wish to ice fish.
If you do fall thru the ice a few tools will greatly improve your odds of survival. Always carry a set of retractable ice picks. These simple and inexpensive tools allow you grip the ice and pull yourself back up out of the water. I wear mine at all times and they served me well when I fell into a large hole left by a previous ice angler who used a chainsaw to carve an oversized hole on Hayden Lake in north Idaho. Even better than ice picks, is a fishing buddy with a throw rope. On shore in a dry bag or in the vehicle a spare change of dry clothing is a must.
Getting thru the Ice
The vast majority of ice anglers use ice augers to get thru the ice. Ice augers range from $30 for manual augers up to $600+ for electric and gas powered augers. A quality manual ice auger can make fast work of 8" of ice so don't count them out. Auger diameters vary from 4" up to 8". For the vast majority of our fisheries 5" or 6" will suffice for our Northwest fisheries as there are few places you will be pulling massive fish thru the ice. Additionally, smaller holes are easier to drill and refreeze more quickly. An alternative to auger is to use a spud bars which can be used to chisel holes in the ice or simply reopen ice left by previous anglers.
Ice Fishing Tackle
I highly encourage investing in one or more dedicated ice fishing rods. Inexpensive ice fishing rods can be found at many outdoor retailers and will set you back anywhere from $7-20. Most ice rods will be between 20-40" and allow for easier positioning over the hole especially when fighting a fish. I generally prefer rods under 30" if I plan on sitting next to the hole. Longer rods, over 30", are better when hole hopping, moving from hole to hole, and standing over holes. For most trout and perch fisheries a medium light or light rod will suffice. If you plan on chasing bigger fish, such as Mackinaw or triploid Rainbows, you will want a medium or medium heavy rod.
Your small spinning reels on your ultralite setups will suffice or you can buy ice fishing combos with reels. However, it's been my experience that the reels on ice fishing combos are not the greatest and you are much better off buying your reel separately. Spool your reels with 2 to 6 lb mono and you will be ready to go.
As for lures you can use many of the same lures you use for open water. Personal favorites of mine are crappie tube jigs, Trout Magnets, and small jigging spoons such as Kastmaster's and Swedish Pimples. There really isn't a fish I haven't caught through the ice on a Swedish Pimple. Small tungsten ice jigs offer the advantage of a small profile with a greater weight for punching through slush and getting down to the bite zone faster. All of the aforementioned are made deadlier with the addition of a little bait on the hooks with maggots and pieces of nightcrawler being my favorite. Alternatively, you can simply use a baited hook and do just as well.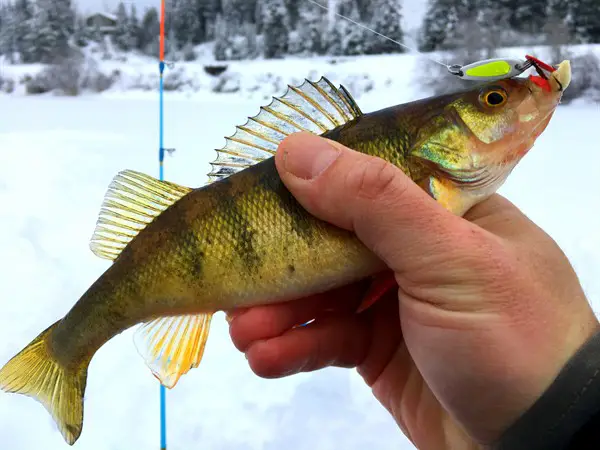 Comfort
Comfort starts with dressing for the conditions. At all costs avoid cotton clothing as it traps perspiration and water against your skin and will quickly wick heat away from the body. I dress in layers using fleece, wool, down, or polyester blends that wick moisture away from the body while trapping plenty of air. Over the top I wear Clam's Ice Armor bib's designed for ice fisherman with padded knee pads and plenty of pockets to store gear. This is topped with a gore-tex jacket and fingerless wool gloves, a warm hat, and a fleece Buff to minimize wind exposure on the face and neck if conditions turn gusty. The key here is the layering. You don't want to get too hot and start sweating as that can accelerate heat loss in the long run. Often times I will strip down to base layers when walking, especially in deep snow, to avoid sweating and then add layers as my body temperature drops.
For added comfort you can use pop-up ice fishing shelters. These heavy fabric shelters paired with a small propane heater can make any day on the ice pleasant even in the most atrocious weather. Shelters range in size from small one person shelters to large shelters than can accommodate up to 6 people or more. I have in the past substituted ground hunting blinds for the same purpose. If you do opt to use a propane heater in the shelter ensure that the heater has a low O2 safety shutoff or keep the door cracked to ensure a fresh oxygen supply.
A bucket with a padded lid provides storage for your catch or tackle as well as place to rest. A ladle will allow you to clear slush from the hole keeping your hands well away from the water. Almost all ice fishing ladles come with a measuring tapes imprinted on them to allow you to quickly assess ice thickness.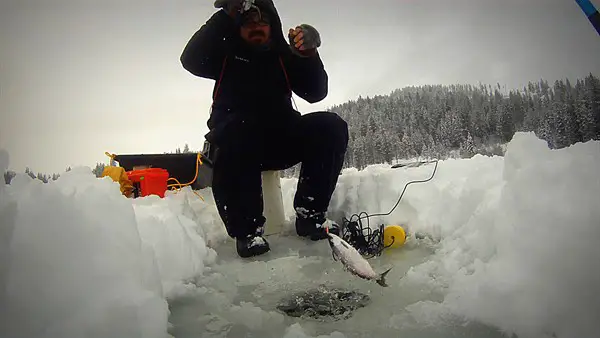 Transport
You will quickly find that carrying all your tackle, augers, and other gear gets to be cumbersome. A small sled you can tow behind you will free up your hands and make carrying gear much easier. I use a 5' x 3' Otter sled to load my equipment in and with a harness I can easily tow over a 100 lbs of gear with ease across the ice and snow. Deep sided sleds are better as they are less likely to spill your gear without the need to bungee everything in place.
I don't own a snowmobile but if you do they offer an excellent way to quickly explore the ice and reach ice fishing destinations not easily accessible to others. Most of my ice fishing is done on foot and aided by snowshoes when snow depths exceed a foot or more.
Destinations
Washington: Fish Lake offers the most convenient access to a quality Yellow Perch ice fishery for westside anglers. In the Chelan area Roses Lake hold Rainbow Trout and perch and freezes most years. Patterson Lake to the north offers a cornucopia of fisheries including trout, bass, perch, and Kokanee. Similarly, Bonaparte Lake near the town of Tonasket has four species of trout including Mackinaw. Eloika Lake to the southeast can produce perch, monster crappie, and even Pickerel. Finally, Bead Lake near Newport provides one of the few consistent Burbot ice fisheries in the state as well holding Kokanee and Mackinaw.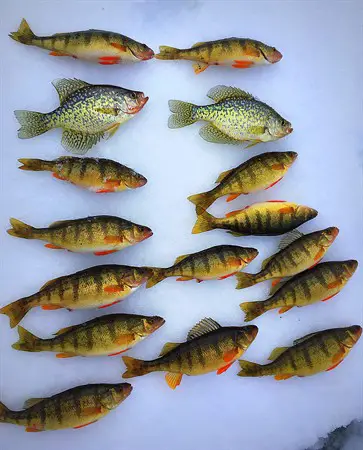 .
Oregon: Lake of the Woods in the Klamath Basin offers a wide diversity of species including perch and several trout species. Fish and Diamond Lakes in the central part of the state offer excellent and reliable trout ice fisheries. Additional, opportunities exist in the northeast part of the state but many of these smaller lakes require snowmobiles to access them.
Idaho: Fernan Lake in north part of the state offers reliable Yellow Perch fishing while nearby Twin Lakes offers one of the few Northern Pike ice fisheries in the region. In good ice years Priest Lake will freeze providing access to one of the region's premier Mackinaw Fisheries. To the south Cascade Lake offers the chance at one of the world's premier Yellow Perch fisheries holding potentially world record fish. Finally, Henry's Lake, among the first lakes in the region to freeze, offers trophy Rainbow-Cutthroat and pure Cutthroat Trout fishing.
There are numerous more opportunities ice fishing opportunities in the region. Be sure and explore the NWFR website to research other ice fishing opportunities in the region. See you on the ice!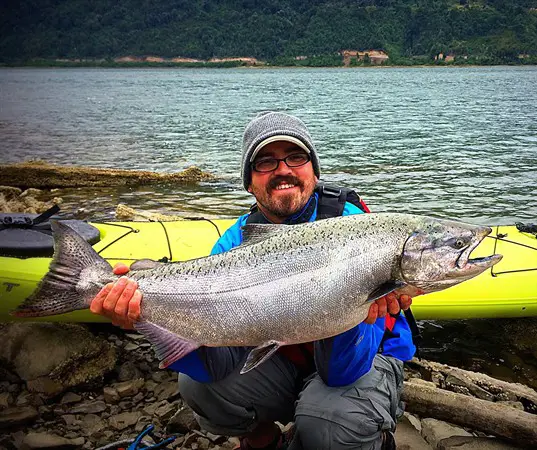 "Tyler Hicks is a passionate angler who spends most of his free time pursuing fish from a kayak. He is especially interested in the recruitment and education of new anglers to the sport of kayak fishing." Check out his YouTube channel for helpful videos:
Spiltmilt Productions
---
Comments
Mackinaw and triploid trout are not the only "big fish" popular for ice fishing. Pike are pursued by hundreds of pike fishermen on ice in the Inland Northwest. Twin Lakes is not one of the "FEW" pike lakes in N. Idaho--there are scores of good pike lakes providing very good pike fishing opportunities. Also you missed the very best upcoming perch fishery in Eastern Washington--Curlew Lake near Republic. Perch up to 12 inches x 1.1 lbs are available. We have caught 50 perch per hour summertime ranging 9 inches to 12 inches and fat as a football. They are threatening the excellent trout fishery there and the trout fishermen will thank you for bringing home the perch.
I couldn't cover every ice fishery available. I agree Pike are available but not widely, its pretty much an north Idaho thing only in the PNW(I used to live in Hope, ID after all). I chose fisheries close to urban areas more accessible to anglers. I not live in Brewster and am well aware of the trophy perch fishery available there yet its a long way to Curlew for most of our readers. Trophy 12"+ perch are also available in other ice fisheries including Roses Lake.