Modern Fishing Diaries
by Jason Brooks, December 02, 2018
I can remember it was August 11th when a co-worker took me out on Puget Sound. I caught my first salmon in the salt after moving to the Tacoma area over 20 years ago now. For some reason that date stuck in my mind. We fished out in front of Gig Harbor where I caught a 10-pound Chinook after chasing Coho near Pt. Evan's by the Tacoma Narrows Bridge. Those are the only details I remember but it sufficed for a few years, especially for the Coho. I was successful in my outings a few additional times, then there was a trip with a friend who was excited to fish this part of the Sound with me since this is where his grandfather used to fish.
As we passed under the bridge (there was only one back then) he pulled out an old and tattered ledger. Flipping through the pages he came to a place that was earmarked and he ran his finger down until he found the closest date of record. I asked what he was doing and he explained that the ledger belonged to his grandfather, who wrote down all of the details of every trip he made out fishing. I thought this was silly as I had already learned how to fish this spot, or so I thought, and didn't need to rely on thirty year old information. We made several passes using the gear I liked to fish which had been successful on my previous trips but nothing bit. Then my buddy pulled out the ledger again, asking what the tides were doing. I had to put the boat in neutral to figure that out, letting him know it was incoming. He then rummaged through his tackle box pulling out an old "Abe's and Al Dodger" and proceeded to switch out his gear. That next pass he landed the only fish of the day. Ever since then I have kept a "Fishing Diary" or ledger if that sounds better to you.
The diary started off as a simple small spiral notebook that I could keep in my fishing vest using the ink pen I needed to write my fish on my catch record card.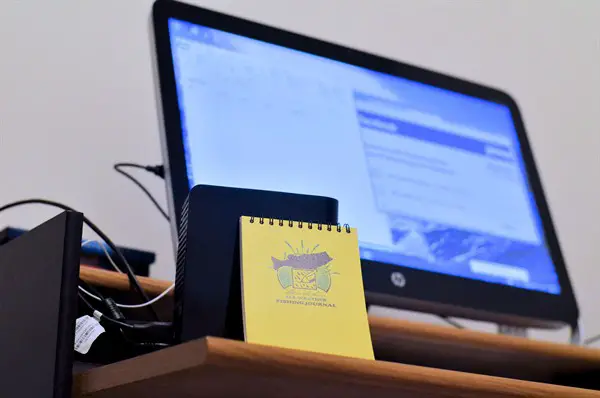 As I continued to write down my trips I noticed that I had to keep more and more information: date and time, location of where we fished, tides, weather, type of fish, bait (including added scents), colors, lures, line, rods, it all seemed to be too much information to keep tabs on. Then one day as I was writing another article about twitching jigs I noticed that by looking through my photos most of my information was already documented. It dawned on me, the cliché, a picture is worth a thousand words. Since then I have updated or "modernized" my fishing diary.
Starting with photographs. When I catch a fish one of the first photos I take is the lure I caught it on as this always seems to be the first thing that I ask myself, and others ask, when I try and remember that day of fishing. But digital photographs take a lot more information, or data to be correct, than just the lure and fish. For instance if you open the photo's properties (simply right click over the photo file) then it will tell you all the important things like your camera settings, but most importantly it tells you the date of when the photo was taken.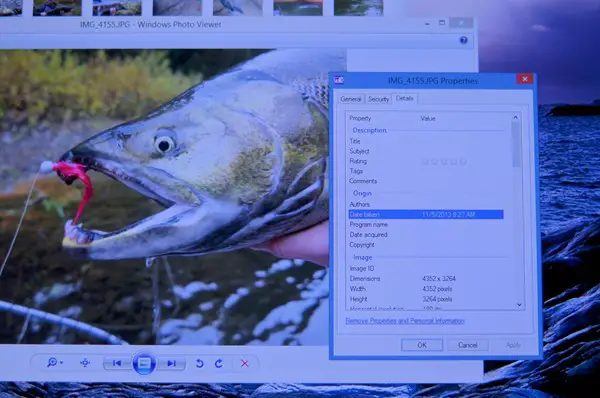 Some cameras and even camera phones will also include the GPS coordinates. This is great for you but be aware of this when sending photos to other people as they can easily learn your secret spots. The photograph will also show you a general idea of the weather conditions that day, or at least at the time the fish was caught. My fishing partners get pretty annoyed at me when I take a photo of every fish I catch, but this is exactly why I do that. At the end of the day I can tally up all the fish as well as keep a record of what gear we caught them on.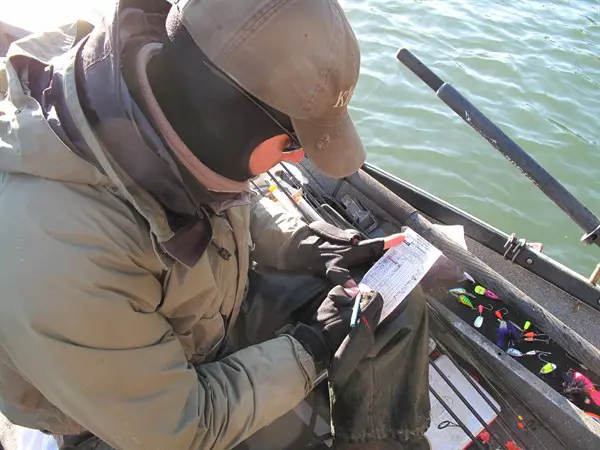 Speaking of GPS. There are "apps" for smart phones that work in conjunction with satellite maps but you must have cell service. I use a handheld GPS unit that is waterproof. Not only can I mark where I catch fish but I can add notes including water levels for put in's and take outs as well danger spots on the river with an alarm letting me know well in advance when it is time to get out and rope my boat around a spot. At the end of the day I can download all my data to a spreadsheet or data sheet and save it to a folder on my computer. This information includes any notes that I already took throughout the day. Most sonar or "fish finders" have GPS capabilities and store even more information such as speed you were fishing, water temperatures, depth, and exact location. This data can often be downloaded or saved to a SD card and then put into your computer once you get home to retrieve the data.
The computer is simply put the most important part of my fishing. Not only can I download my GPS and photos of my trips but I can also look up information such as river levels, ocean swells, tides, weather, fishing seasons and rules, previous smolt releases, and of course document other things such as egg cures, lure colors, rods, lines, techniques, etc., all of which can be entered into a document, like a spreadsheet. The best of all, thanks to the photographs I took and GPS coordinates and notes most of this can be done at a later time, like during the off season. This makes it a lot of fun and allows me to relive the past trips and plan for new ones.
Catch record cards, or "punch cards" as we often still refer to them, offer a lot of information on our recent fishing adventures. Specifically the location we fished, date we fished, and if we kept any fish including what kind. Before I send my card back to my game department for reporting I scan it so I have a copy for my records. Again, I include this in a file folder or type it into a spread sheet if needed.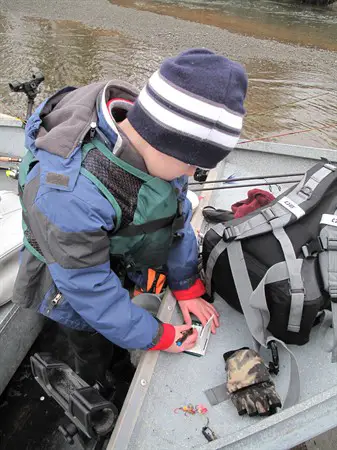 Fishing espionage' or simply using technology to your advantage. With all of the above information about photos, GPS, weather, and such you can find out just about everything you need to know from your fishing buddies without them even knowing they gave up all their secrets. But turnabout is fair play and if you like to post photos on Social Media be aware that others can do the same thing. Whenever I want to keep a place or technique a secret I make sure to only post a photo of a close up and all lures or baits will be removed. Of course Social Media is another tool in keeping a fishing diary, as most of the time we like to boast about our trips and conveniently the date is captured when we post those photos. If you forgot about a trip you can easily go back and see the day's events if you shared it via Social Media.
I would be remiss if I didn't mention the Pacific Northwest's longest lived "online fishing diary", Northwestfishingreports.com. Created back in 1997, founder Mike Carey's vision was exactly that of an "online fishing diary". If you don't mind your reports being in the public domain, it's an amazing tool for documenting your fishing adventures. Reports are indexed into your own "My Reports" section that is searchable by location, date, and species. What that means is you can look up a location from twenty years ago and refresh your memory on what worked and what didn't. It's the ultimate "way-back" fishing machine that sends you back to your younger days of angling. Add pictures of kids and friends and it's by far the best "social media" way of keeping track of your fishing adventures.
Grandpa's old and tattered handwritten ledger is still used today but it has a different look to it. A modernized spiral binder of sort now with pictures, web links, spread sheets and GPS coordinates. At the end of the day make sure to save this information to your computer so it won't get lost. I like to use a cloud service which allows me to look at this info on any device that can connect to the internet. More than once I have been out fishing and looked up my diary to see what I used for a certain condition or time of year to find the fish. Grandpa would probably be a bit confused but also impressed.
Jason Brooks hails from North-Central Washington. The son of a fishing guide, Jason is an avid hunter, angler, outdoor photographer and published writer. He resides in Puyallup with his wife and two boys.
---
Comments
thanks for this information, I guess I knew this but have not applied it- I will next year! got to love the Northwest Fishing reports! Happy Holidays to everyone.