The Bounty of Puget Sound (with or without salmon)
by Jason Brooks, June 10, 2017
Its' hard to beat enjoying a summer's day out on Puget Sound. With the recent conflicts and confusion over salmon season's and a lack of setting rules for fisheries this past spring I got to thinking about other options besides salmon. With last years predicted low returns of Coho, closures and even non-existent fisheries that were once traditions in the Sound it's hard to imagine a summer out boating in the shadows of the Space Needle or the Narrows Bridges and not have a fishing rod in my hand. What anglers need to remember is that there are other options to enjoy the bounty of Puget Sound and maybe this summer we will need to focus our attention to those options.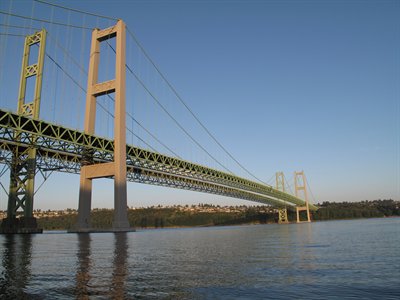 Lingcod will be open through the middle of the month. These big ugly toothy creatures of the rocky bottom are one of the best eating fish in the salt. It's hard to argue with your mouth full of some deep fried lingcod! Look to the rocky breaks and deep drop offs along the shores. For beach anglers a few are caught off of the many public piers and the marina's with large breakwaters or jetty's allow those willing to lose a little gear to catch lings from the beach.
Of course one of the most popular spots is near the Tacoma Narrows Bridges. Stay on the Tacoma side and work the rocky ledges along Titlow Park. Jigs tipped with a piece of herring do well and a mooching set up with a live herring that you can get from the Point Defiance Boat House are your best bets for catching these lings. Make sure that once your gear hits bottom that you reel up a few cranks otherwise you will quickly lose your set up. This is why most use the mooching presentation. A 5 to 8 ounce banana weight with a 20 pound 36 inch leader allows you to drop your gear, hit bottom and reel two cranks up keeping your herring about two or three feet from the structure. Drift with the current, with the outgoing being more productive than the incoming, plus if you start on the north side of the bridges this keeps you away from them as they can become very dangerous with the ripping tides. Since you're in the area give Point Evans a try as well as the shoreline between Point Evan's and Gig Harbor.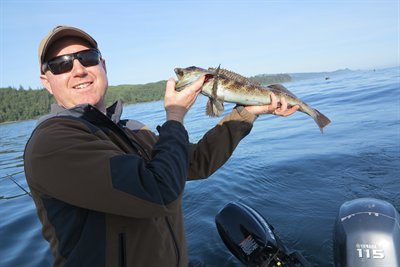 Spot shrimp are one of Puget Sound's most sought after bounty but it only has a few days of openings in May. If you missed your chance or just want to get more shrimp then remember that Coonstripe and Pink Shrimp season's open back up starting June 1st. Each marine area might have different regulations, such as in Area 11 near Tacoma you can't fish more than 150 feet deep but there is no depth restriction in Area 13. Also know that since spot shrimp are closed you can use ½ inch mesh pots instead of the standard 1" mesh pots.
I primarily target the Coonstripe shrimp. These crustaceans are smaller than the spot shrimp but still get up to 5 inches in overall length. When you end up cooking the tails they finish to about the size of "salad" shrimp making them perfect for battering and deep frying into "popcorn" shrimp or adding them to your favorite pasta dish. Of course save a few for salads too. Don't throw back the smaller shrimp you catch. Instead, head to Sportco or Outdoor Emporium and pick up a shaker bottle of Pro-Cure's Prawn and Shrimp Cure. Then put those smaller Coonstripe shrimp to use this summer, fall and winter catching steelhead (and they work great hover fishing and float fishing for fall Kings).
To find Coonstripe shrimp look for large flats in water around 150 feet. I put out some prospecting pots and let them soak for about an hour. When pulling up your pots, even with the smaller mesh, these shrimp are quick to escape so keep pulling steadily until you get it all the way into the boat. Once you stop pulling they get out. The steady pull pins them against the side of the pot and they can't move about. For bait it's hard to beat a couple cans of cat food, I like using the salmon ones, and then add some Pro-Cure Crab and Shrimp attractant. I also will add a can of tuna. Simply punch a bunch of holes in the cans and put them into the pot's bait cage.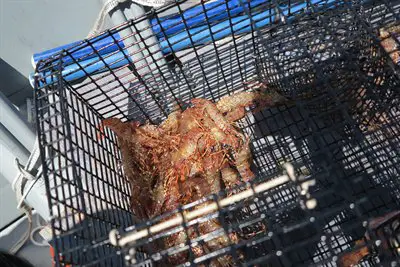 Two summers ago June saw an early crab opening in Marine Area 13. Hopefully this June we will see this again. Even if there isn't an early opening, June is the time to get your gear ready. I make sure my crab pots are ready to go, re-tie the cotton hinges on the biodegradable doors, and look over my knots and buoys. It's always a good idea to re-write the required information on your marker buoys and that the red and white parts are still red and white. I drag out my crab cooker as well, fill the propane tank and make sure it all lights and is in working order. The last thing you want when the crab season finally opens is to get home and you can't get the burner to light so now you have to cook all the crab on the kitchen stove.
One thing that my youngest son Ryan and I like to do when we are out crabbing and shrimping is to catch flounder and other bottom fish. Make sure to read the regulations for the marine area you plan to be in that day, as again, like the shrimping, different rules apply to different areas. One of our favorite areas of course is marine area 11, as we fish near Tacoma. Here you can't fish for bottom fish in water deeper than 120 feet and throughout Puget Sound you cannot fish for any kind of rockfish. Flounder are a lot of fun because they are easy to find, easy to catch and provide excitement. If lingcod is still open we will save the smaller ones for bait but otherwise we tend to just catch and release while waiting for our shrimp and crab pots to soak. I have talked to some people though that like to eat the flounder and even heard that if you cut the meat out into small squares or circles that they are similar to scallops.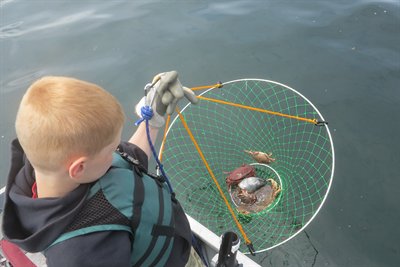 To catch flounder we like to take out light action trout rods. Then use a 1 ounce banana weight and a two foot leader of 10 pound test to a 1/8 ounce jig as they have small mouths. The idea behind using the banana weight is to help get the jig down to the bottom in the tides as the 1/8 ounce jig never seems to find bottom on its own with the drifting currents. Tip the jig with a piece of herring or a worm. If you don't get a bite in the first few minutes move around a little. It doesn't take long to catch a few fish. Most run under a pound but we have caught a few that went up to 3 pounds and given their flat shape they are a lot of fun on a light rod.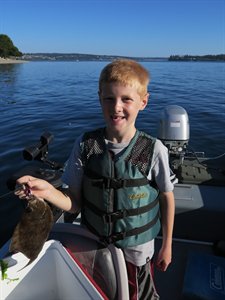 Another option to enjoy the shores and beaches of Puget Sound is to head to a state park and look for clams. Most of the state parks that have beach access also have a supplemented clam and oyster bed. We first discovered this when we were invited to Penrose State Park with some friends for a mid-day barbecue and some time at the beach. All we had were the play shovels and bucket the kids brought along and realized that people were clamming. Soon we were out digging in the sand and picked up manila or "steamer" clams and a few horse clams that the kids really like to play with. There was an oyster bed there too and after borrowing a plastic bag we had our limits of oysters. Just remember that you need to shuck the oysters at the beach and leave the shells behind, only retain legal size clams and each person has to have their own container for their own clams and oysters, plus a shellfish or combination fishing license with them.
Of course I want to end this article on a positive note in regards to salmon. Being 2017 the Pinks are coming in the next month or two, even if Puget Sound is predicted to get back just over a million of the tiny, feisty, salmon compared to nearly seven million two years ago. Pinks give us an opportunity to catch fish each time we head out onto the water and even take some home. Ones caught in the salt are very good for eating and especially smoking and canning. Look to the familiar places like "Humpy Hollow" near Everett and Brown's Point near Tacoma. These salmon are usually found near the surface and trolling for them means pulling white dodgers and pink squids, but don't overlook other options such as the new Kokanee Cut Plugs by Brad's Killer Fishing Gear. These small, 2 ½ inch plugs are perfect for Pinks, just stuff them with canned tuna and krill powder and a few squirts of Pro-Cure shrimp bait oil.
So, there might not be as many returning salmon to Puget Sound this year, but that doesn't mean we should put our boats away just yet. There is plenty to do while enjoying our beautiful waters we call home. Look through the regulations and head out with the shrimp pots, a few light action rods for flounder and a bucket or two for some steamer clams and enjoy the bounties of Puget Sound.