Angler's Gift Guide 2017
by Jason Brooks, December 09, 2017
For the angler the holidays can be a very exciting time. Not only are the rivers running with steelhead, coho, and sea-run cutthroat but trout fishing our local lakes can be really good in the wintertime. Throw in that it is almost time for Sportsman's shows and this is a great time to clean and refurbish our gear before spring gets here. When it comes to family and friend's celebrations gift giving for those that don't fish can become stressful when it comes to buying for the avid angler. I know that I have received a few gifts over the years from non-fishing friends who thought they were giving me something "great" only to open the gift and find a singing plastic bass or a giant overstuffed fish shaped pillow. To keep this from happening here are a few gift ideas for anglers, and the best part is that most of these gifts are from right here in the Pacific Northwest which means that we know the gear works!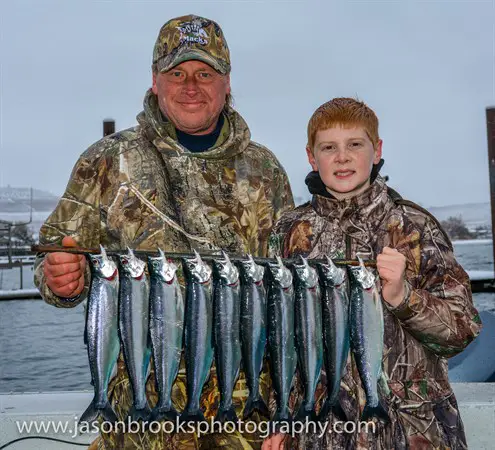 This past year I was fortunate enough to explore some new fisheries and learn some new techniques as well as fish my "home waters" that I enjoyed as a kid. If there is one main gift you are looking for a gift certificate for a guided trip is top of the list. Lake Chelan is where I grew up and learned to fish so returning here and sharing a day on the water with my son Ryan created memories for him and reminded me of a few from my youth. We spent a day last winter with Jeff Witkowski of Darrell & Dad's Family Guide Service on Lake Chelan who the best kokanee angler I have ever met. In the last few years Jeff has blown away the theory that kokanne fishing is a spring and summertime opportunity. He starts catching the famed Lake Chelan silvers in mid-November and keeps it going all winter long. Offering trips in a heated and covered boat during the winter as snow-flakes gently fall. You won't be dodging jet ski's or pleasure boaters that can disrupt your trolling patterns either. Jeff also targets the huge Mackinaw the lake offers as well as rainbow and cutthroat trout. If you would like to extend your kokanee season give Jeff a call (509) 687-0709.
Gear is always a great idea, anywhere from a new boat to stocking stuffers of hooks, lures, and bottles of scents. Angler Innovations www.anglerinnovations.com has the "LongLiner" a sliding weight system that allows the angler to set-back the lure from the weight and when fighting a fish the weight releases and becomes a free-sliding weight system so if it gets caught in the net you won't lose the fish. It also acts as a rudder for gang-trolls, popular with trout and kokanee anglers.
Speaking of kokanee, those that fish for these silver rockets of a fish are known to be addicted to finding and fishing new gear. With the popularity of kokanee fishing in the northwest there are a multitude of local companies that make specialized gear. Wannafishalure www.wannafishalure.com out of Pierce County is often out on the local waters trying new colors, blades, and gear. Toni Pollock who makes the lures and fishes them as well can be found on many local lakes and always willing to give a report and "tech tip" on which lures are working and more importantly which ones are not.
Now that Mack's Lure www.mackslure.com and Shasta Tackle have combined together anglers can look at one company for a "go to" on trout, mackinaw, kokanee, walleye and bass fishing lures. They also offer some great jigs for twitching up some Coho with their Rock Dancer line.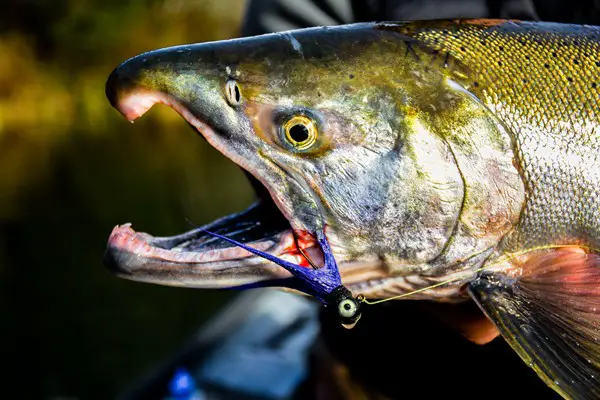 It is hard to beat pop-gear or "gang trolls" when it comes to searching a new lake for trout and Mack's Lure "Flash Lites" are one of the of the best with their mylar-wings that are low drag so you can fight the fish and not the gear.
Spinners are fun to fish and make for a great gift. One of the most tried and true trout lures is the Roostertail from Yakima Bait Company www.yakimabait.com and handful of them in the stocking or just as a stand-alone gift is one that will be much appreciated. This past fall at Bouy 10 I fished a few days with Buzz Ramsey and learned how to fish the Mulkey's Guide Spinner. It was amazingly easy to fish and it was very effective, catching a few Upriver Brights each day we were on the water.
Artic Fox Trolling Flies www.trollingflies.com is another company that offers kokanee flies as well as other flies for salmon, trout, bass, and just about any other game fish you can think of. They make a tube fly for those that fish Spey rods or just want a fly that imitates a bait fish, squid, or shrimp. They even offer a saltwater series and some bucktail flies that Coho would go crazy for. Imagine using an 8 weight fly rod at the mouth of an estuary or stream next fall when the Chums arrive while stripping in a bucktail fly and the aggressive fish grabs it and runs!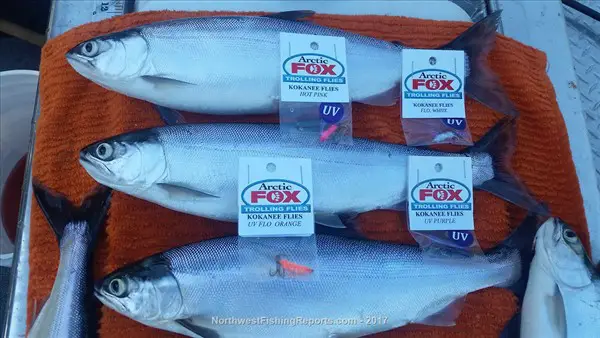 Pro-Cure scents, attractants, and egg cures are always needed since they are heavily used. The shelf life of the bait oils and gels is around five years so you don't have to worry if you get a few bottles of the same scent. Egg cures are something that most anglers only think of buying when they have a few skeins to cure up and that means they need to run to the store and buy some, leaving those skeins without cure for a day or two. It's nice to have a jar of cure on the shelf in the garage, ready to use. Their new Super Sauce is very sticky and lasts a long time. The Salem, Oregon based company is a leader in research and always coming out with new products that entice the bite. Their Monster Bite is a feeding stimulant that commercial hatcheries use. Put some on your bait and watch the fish go crazy. I've used Monster Bite for a few years without telling my buddies only to have them become perplexed at why they weren't getting bites while I landed fish after fish.
Old Goat Lures is a company that is on the brink of innovation when it comes to lure making. Northwestfishingreports.com Mike Carey told me about this company and their lure making process, "Old Goat uses 3D printing technology and is a real innovator in this region. Their products target salmon, trout, and kokanee very effectively. We've gotten some fantastic member reports this year on how effective this unique lure is".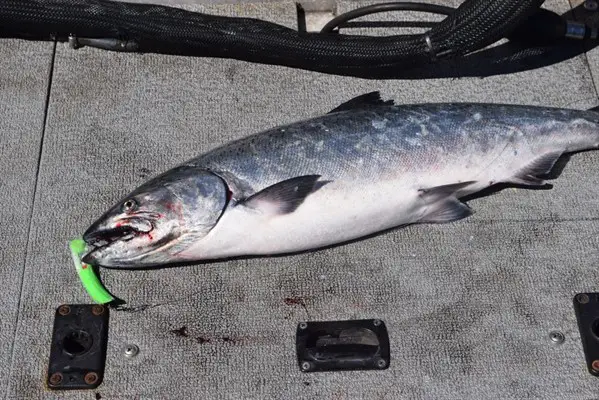 Another company that Mike Carey speaks highly of is IFish Solutions and Allan Hanna, "He installed the unit on my boat. It's a throttle control for trolling motors and main motors. It has advanced features like pre-programed hunt modes that automatically cycle the trolling motor through different throttle sequences. I can attest that I have had several fish strikes with the itroll that I wouldn't have otherwise had. It gets anglers out of the unproductive habit of trolling constantly at one speed."
Rods are addictive, just a quick glance in my garage shows how addicted I am to fishing rods. A rod rack makes for a great gift. I have both stand-up rod racks that attach to the wall as well as a free-standing rod rack that is movable but the one I like the most is my ceiling mounted rod rack. I put the rods up and away where they won't get broken and don't get tangled with each other.
If you are looking for a new rod or want to buy one for an angler think about getting a gift certificate to a custom rod maker. I have been using North Fork Customs Rods www.northforkcustomrods.com for several years. Wayne and Diana Anderson make these rods in Southwest Washington and the best part is they will make it to your exact specifications. You get to pick the colors for the eye wraps, handles, and even put your name or personalized message on your rod. Using North Fork Custom's blanks by Gary Loomis these are "top of the line" rods and makes for a great personalized gift that any angler would be thankful to have. Each time they go fishing they will remember the gift you gave, even if it is for yourself!
There are a few "non-fishing" gear items to consider for the angler as well. A Stryker stove from Camp-Chef www.campchef.com is always stowed in my drift boat or backpack. When it is cold outside and pouring down rain nothing beats a hot cup of coffee or a hot lunch and the Stryker heats up water, soup, or a meal in seconds. It has a built in ignitor so there is no need to worry if you forgot matches. It all packs into the cup and is lightweight for those that like to hike along a rivers edge or lake.
Dry bags are a must for the Northwest angler. Browning has a great line of dry bags that come with shoulder straps. You can put in extra clothes, food, first-aid, and survival gear and stow it in the boat. Leave air in the dry bag and it will float, another bonus if you happen to have a catastrophic accident out on the water.
The Holidays are a great time to be out fishing but if for some reason you are stuck off the water then break out your tackle box. Make some room for new gear and re-stock with some of the gifts you got, even if you bought them for yourself. Don't forget your fishing buddies and know that they really don't want a plastic singing bass or a plush pillow the shape of a rainbow trout. Get them the gear they need, or some new lures to try. Plan that guided trip to learn a new fishery and spend some time with those that might not think fishing is fun, you might surprise them and make a new fishing partner out of it. Happy Holidays.
---
Comments
Jason and Mike: We appreciate the mention! (For fishermen interested in our lures, you can check them out at https://www.oldgoatlures.com/.) Thanks!