Spring Columbia River Walleye Tournaments
by Mike Carey, February 01, 2018
Walleye in the Pacific Northwest are a popular and sought after species to target. The culinary attributes of the walleye are second to none with a delicious white flakey meat. They have a good range and populations, especially east of the Cascade Mountains. Where they really shine for numbers and size, however, is in the Columbia River. With a reputation as the place to go for a shot at a trophy walleye, the Columbia has become very popular over the years with walleye anglers. Trophy size would be greater than 28" and nine pounds. The current state record, caught in the Columbia River's Wallula Pool in February 2014 weighed in at 20 pounds and 5 ounces. It is not uncommon to catch walleye in the 12 to 16 pound range in the main stem of the Columbia River near the Tri Cities in the late winter and early spring.
Much like bass fishing, walleye are very popular as a tournament fish. They are a hardy fish that survive well in live-wells. And while they can be fairly easy to catch, when tournament angling there is a distinct skill set involved in bringing home a winning weigh-in.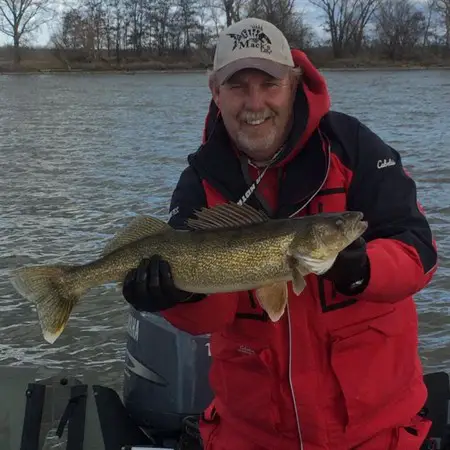 Here in Washington, the Columbia River has had walleye tournaments for several years. Last year long time sponsors High Desert Marine and Nixon's Marine bowed out. Determined to continue the tradition and high stakes walleye tournaments on the Columbia River, a new association was created. Formed by anglers dedicated to the idea of trophy walleye fishing, the Columbia River Walleye Anglers Association was formed in 2017. The Association put on its first walleye tournament in August of 2017. It attracted 49 boats and 98 anglers and was a well received and huge success. Because of the success of this first tournament, the Columbia River Walleye Anglers Association voted to continue as an entity, electing a board, setting up bylaws, and establishing itself as a non-profit, 501C3, status pending. The future of walleye tournaments is in good hands!
For Winter/Spring 2018, the Association has two tournaments lined. The first tournament is scheduled for February 24th and is sponsored by Griggs Tackle of Richland. This "Winter Shoot-out" will feature three man teams and is a one day tournament launching out of the Kennewick boat ramp. The second is March 24-25th out of Umatilla and is a two person per team event.
Least you think these are some low stakes fishing tournaments, consider this. The payouts on these events are 80% with 100% pay outs on Option Pots. Payouts go one place for every seven teams, so for example if there are 49 teams there will be 7 payout places. The Option Pots are for Big Fish and Big Bags. According to Association angler Ted Beach, this means first place could net upwards of $7,000 or more! That's a pretty nice payout for a tournament.
I visited with Ted recently at the Tri-Cities Sportsman Show and he shared some interesting information about the Columbia River Walleye Anglers Association and how walleye tournaments are held.
First off, I was curious about mortality rates and what happens to the fish? Ted told me that WDFW has strict guidelines for tournaments and if fish mortality exceeds 2% the event can actually be shut down. Walleye are kept alive in live wells of the anglers boats. They are hardy fish and if handled properly have good survival rates in live-wells. There is further angler incentive in the form of penalties for dead fish, and disqualification for three dead fish. With the high stakes involved it's to everyone's benefit to keep the walleye in good shape. At the end of the day the fish are returned to the river after weigh-in. There is a paradox at play here since WDFW's recent Columbia River walleye rule changes include no daily size or number limit on walleye in the Columbia due to their concern of smolt impact by walleye, bass, and other predator fish. Ted admitted that was a curious dichotomy on the part of WDFW. That said, Ted wanted to be clear on the goals and purpose of the Columbia River Walleye Association.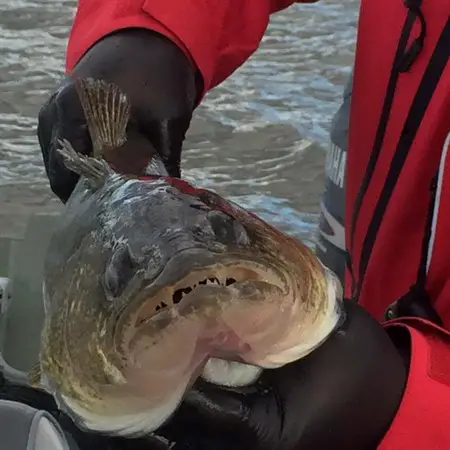 The short and long term goals of the Association are, as you may expect, in support of the fishery and walleye in general. Proceeds from the tournaments after payouts go to fund future tournaments, and most importantly, education about the resource to the angling community. The Association is an advocate of walleye in the Columbia and do not want to see the resource eliminated. To that end the members of the Association are actively providing educational seminars and speaking at various organizations and retail outlets.
The walleye tournaments are a great way to spread the word and enthusiasm among the angling community about what a great sport fish the walleye is. As I mentioned at the start of this article, the walleye is fairly easy to catch for the casual angler. That said, tournament angling brings out a higher skill set and subtle technique improvements can often be the difference between catching and winning. That's not to discourage the casual angler from participating – just the opposite. If you want to learn to become a better walleye angler joining the Columbia River Walleye Anglers Association and participating in tournaments is a great way to proceed. You'll be joining a friendly, like-minded group of anglers that you'll learn from and have a good time with.
And, with a bit of luck and determined fishing, you may just come home with a big fat check, thanks to the Columbia River walleye!
If you'd like to learn more about the Columbia River Walleye Anglers Association check them out on Facebook. You can also print out the registration paper work from this link on Northwest Fishing Reports:
Spring Columbia River Walleye Tournaments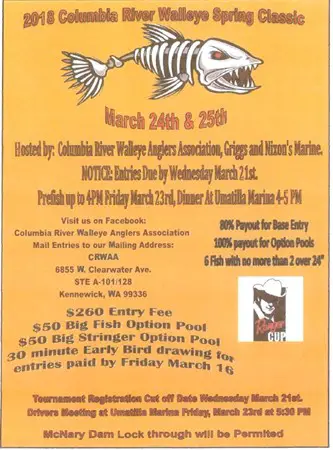 ---
Comments
Is there any clubs I could join so I can learn this fishery? Have boat will travel.