Washington's Nation of Trophy Trout
by Tyler Hicks, February 01, 2018
Blown rivers, icy road condition, or cold temperatures often hamper our winter time fishing plans. Anglers often find a little more spare time in mid-winter and this provides a great opportunity to research and plan the year's upcoming adventures. One corner of the Pacific Northwest you should consider adding to your hit list is the Colville Indian Reservation located in the north-central region of Washington State.
The Colville Nation offers some of the best trout fishing in the region and there is a pretty good chance you'll have most if not all of the lake or lakes to yourself. You'll need a tribal fishing license which can be acquired from a variety of vendors both on and off the reservation. A one day license will set you back $10 ($5 for senior) with three day, seven day, and annual licenses costing $20, $30, and $40 respectively. Second rod stamps (two-pole endorsements) are available for only a few dollars more.
Not all lakes are open to non-tribal members but many are seasonally open and some of the largest most productive fisheries are open year round to non-tribal members. Sport fishing regulations for the non-tribal members can be downloaded here: https://goo.gl/3yZcGf. My three favorite year-round lakes are located in the western and southern portions of the reservation and provide the opportunity to target a diversity of trophy trout as well as few other bonus fisheries as well.
Omak Lake
For many this lake needs no introduction. Located just outside the town of Omak, Washington this 3200 acre lake is home to the region's premier Lahontan Cutthroat Trout fishery. This scenic lake is highly alkaline giving it a unique aqua blue color and bleaching the shoreline a vibrant white. Few fish inhabit the lake beside the trout and a chub which forms the base of the diet for these large aggressive trout. Catching 30 or more trout in excess of 16" in a day is not an uncommon experience on this lake. Monsters pushing 30" and 10 lbs or more are caught every year and the current state record cutthroat weighing 18 lbs came out of this lake.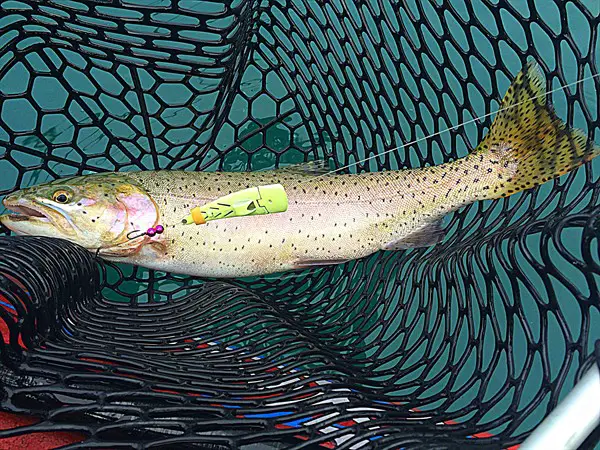 There are bait restrictions on this lake but these trout are so aggressive you won't notice a difference. I've used a wide variety of lures on this lake but my most effective setup is a size 2/0 Les Davis dodger paired with a Brad's Killer Fishing Gear mini-cutplug "Seahawk" pattern trailing 18" behind it. Other reliable lures include Yakima Bait Maglip 2.5's in any pattern with silver, and blue and black Vibric Roostertails. Fast trolling, 2+ mph, is by far the most effective technique on this lake but you can do just as well casting lures along the shoreline and in the bays during the non-summer months. Summer is a great time to fish this lake as the weather is usually warm with lots of sunshine but fish tend to spread out and go deep. Personally, I prefer the cooler transition seasons when fish are concentrated in the upper parts of the water column and often associate tightly with the shoreline. During this season fish can easily be caught by bank anglers. However, during March and April catch-and-release is required and angler's must use barbless hooks.
No matter what season you visit this lake, it will not disappoint. Keep your eyes peeled along the shoreline for herds of Mule Deer and Bighorn Sheep. Fishing tackle, licenses, and advice on this lake are available in nearby at Omak at North 40 Outfitters. Additionally, the town of Omak has several hotels and RV and tent camping is available in the park along the Okanogan River in town.
McGinnis Lake
This 120 acre lake is situated in the hills above Elmer City, Washington near the Grand Coulee Dam. Easily accessed by paved road this lake supports one of the state's premier Brook Trout fisheries. The lake is stocked exclusively with Brook Trout by the tribes and they grow quickly in this highly productive lake. One to two pound Brook Trout are not uncommon and some real lunkers pushing 4 to 5 lbs are not unheard of. Like most trout fisheries the transition seasons are best but winter time ice fishing can be just as good if not better.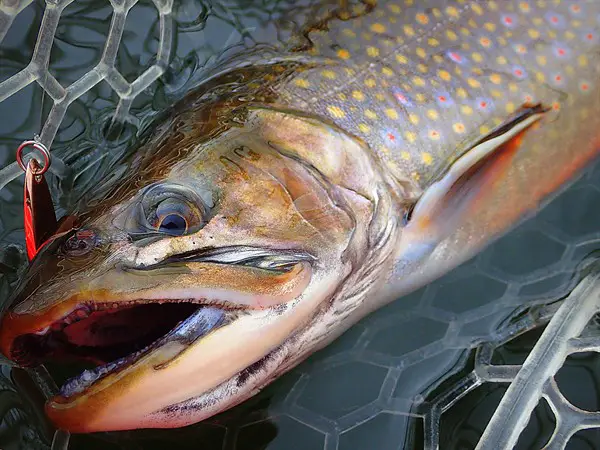 Trolling or cast and retrieving lures over weedbeds is the best to target these fish during open water while jigging is deadly in winter. Bait is allowed and anglers can take home up to 5 fish over 8". My favorite lures during open water months are small metallic Kastmasters or spinners with copper being my preferred color for this lake. In winter months small jigging Shad Raps from Rapala or jigging spoons tipped with maggots are deadly.
Tribal licenses, tackle, and excellent advice can be sought at Coulee Playland on the shores of Banks Lake at nearby Electric City. Camping/RV space is available at numerous locations in the Grand Coulee area as well as at nearby Buffalo Lake.
Buffalo Lake
Located near the town of Nespelem this 540 acre lake supports a diversity of fisheries and is stocked heavily with triploid Rainbow Trout. Rainbow Trout in the 2-4 lb range are more the norm here than anywhere else, and fish up to 8 lbs or more are not uncommon. There is a limit of 5 trout and any trout caught on bait contributes towards your limit. Still fishing bait off bottom is an absolutely deadly approach and Powerbait, nightcrawlers, and shrimp are all effective but I prefer to troll for them with artificial lures so I can sort through the "smaller" fish for jumbos. Small Rapalas, Brad's Kokanee Cut plugs, or Frisky Jenny "Roosevelt" trolling flies will all produce fish. You can run these alone but the addition of a dodger seems to entice more bites on most days.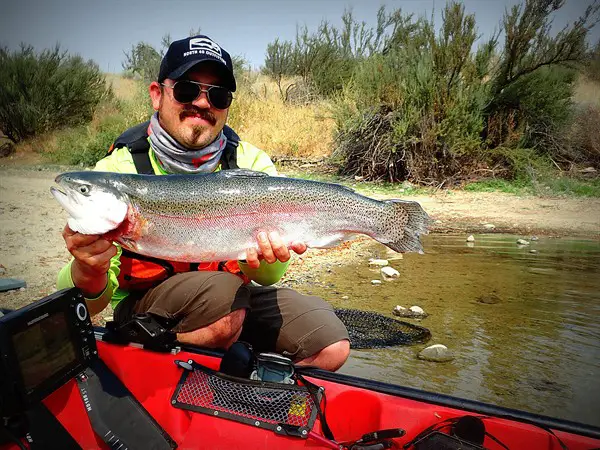 During the summer months downriggers or lead will be needed to drop down to below 30' where most of these big Rainbow retire in order to avoid the warm surface water. In fall and spring the fish return to the surface and in good ice years they can be caught thru the ice in 5-15' of water.
The lake also supports a healthy Kokanee population (limit 5/person) with most fish averaging around 13-14". Bass fishing is also excellent for those anglers interested in chasing some ditch pickles. Two public launches are available on the west end of the lake but trout fishing tends to be better on the east end.
If you have any more questions feel free to ask in the comments section below or give me a call at the North 40 Outfitters in Omak, Washington.
Check out these videos on the above lakes:
Omak Lake: https://www.youtube.com/watch?v=_OwthXuhEpc&t=98s0
McGinnis Lake: https://www.youtube.com/watch?v=1bxck0rgitE or https://www.youtube.com/watch?v=9aIGy4pXm5A
Buffalo Lake: https://www.youtube.com/watch?v=7X_BCJ_y654&t=7s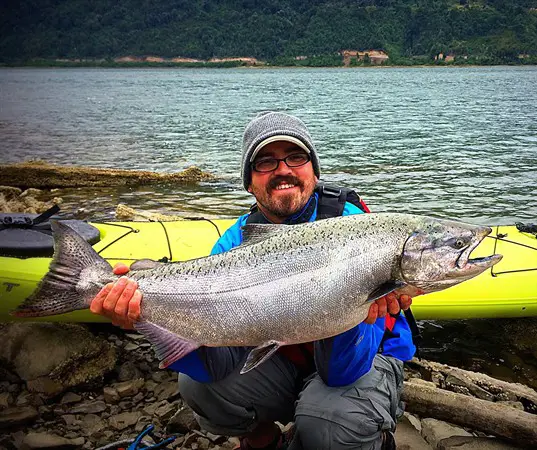 "Tyler Hicks is a passionate angler who spends most of his free time pursuing fish from a kayak. He is especially interested in the recruitment and education of new anglers to the sport of kayak fishing." Check out his YouTube channel for helpful videos:
Spiltmilt Productions
---
Comments
Thank you Tyler for narrowing down some of your Colville experience into one nice article. I have experienced Omak many times, and look forward to Buffalo and McGinnis, this year.