Big Horn Outdoor Adventure Show 2018
by Mike Carey, March 01, 2018
The winter sportsman shows in Washington come to an end with the Big Horn Show in Spokane. It's Washington's second largest show, right behind the Puyallup Show.
My wife JoAnn and I have made this show a yearly family event, bringing our dogs Diesel and Rudy along for a get-away. It always sets a small part of my soul free as we climb up and over Snoqualmie Pass, then down into the Columbia Gorge with its impressive cliffs. From there the drive transitions to the stark beauty of the sage bush desert, revitalized by irrigation but asleep this time of year. Hitting Sprague Lake with its inviting waters I always say to JoAnn "we really need to bring the boat over and fish this lake!" Finally the desert begins to recede and pine trees appear signaling the approaching city of Spokane.
Spokane is so unlike Seattle. Its buildings lining the highway are older and the skyline is less impressive. There's something lacking... oh, that's it! Three million people! The crush of humanity is left far behind when you travel to Spokane and yet you can still get a great espresso without looking too hard. The pace is a tad slower and that suits JoAnn and I just fine.
At the Big Horn Show there is plenty to see and do. For outdoors enthusiasts in the greater Spokane area it's a huge event with lots of interesting vendors, seminars, and events to see. For those deciding to get away for a weekend it's a fun event with enough activities going on and deals to be had that you won't be disappointed. Your $10 admission is good for all four days so you'll be able to take your time and take in all the show has to offer.
This year's Press Release below gives a taste of what's in store if you decide to get away from the wet side to the east-side of our state. And if you already live in the Spokane area, well, you know you'll enjoy catching up with vendors from previous years and meeting new vendors promoting their businesses for the first time. So check it out and when you do, come by the Northwest Fishing Reports booth and say "hi" to the crew. We'll have free gifts for our members and share some tall fishing tales with you.
See you at the show!
------------------------------------------------------------------------------------------------------------------------------------------------------
FOR IMMEDIATE RELEASE: "Bringing the outdoors, indoors" (Spokane, WA | February, 2018) The weather is getting warmer and the days longer, which means two things; Spring is close and The Big Horn Outdoor Adventure Show is closer! Starting Thursday, March 15th join us at the Spokane County Fair and Expo Center for FOUR full days of fun for all.
Cost of Admission: Adults: $10.00 Military/Seniors/Students: $8.00 Kids 6 and under with parents are free! ADMISSION IS GOOD FOR ALL 4 DAYS!
Don't miss these great attractions: Tina Timber's LumberJills, catch the chicks with axes compete in log rolling, underhand chopping, hot sawing, ax throwing, chainsaw carving, and cross-cut sawing!
The Sportsman' Shooting Gallery, back by popular demand, come and show off what you've got at the range.
The 2nd Annual Ladies Night, you read that right. Friday, March 16th from 4p-8p is all about the ladies. Wine in the Beer Garden from Latah Creek, special discounts, and giveaways are just some of the perks of getting your girls together and coming out to the show. Visit our website to learn about all the fun activities that will be taking place exclusively on Ladies Night.
Trophy Competition, how it all began, will be in Bay 3 enter your trophies Thursday, Friday, or Saturday OR visit the Trophy territory and see what has been entered so far.
Show Seminars, stop by and pick up the best tips and tricks to utilize in your next hunting adventures. Speakers and topics can be found on the detailed show schedule.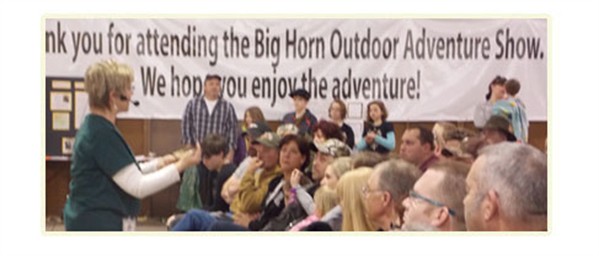 Best of all, over 300 outfitter guides and sporting products to get acquainted with. Hours are posted below so you can start planning your visit to The Big Horn Outdoor Adventure Show.
March 16: 12pm-8pm
March 17: 12pm-8pm
March 18: 10am-8pm
March 19: 10am-4pm
Can't wait until the Big Horn Show, visit us at
bighornshow.com
& follow us on Instagram and Facebook to get all of the latest event updates. See you soon!