Walleye Jigging on the Columbia River
by Davey Brown, October 01, 2018
This year I had the opportunity to attend Fish Camp up on the Columbia River. Fish Camp is a media event where several media types are invited from around the country. The event takes place at Peach Beach Camp Park in Goldendale Washington along the famed Columbia River. The goal every year is to get up and spend some time with a variety of media folks and talk about and demo new products while fishing for salmon, sturgeon, bass and walleye.
And its called Fish Camp for a reason. We do just that, camp. Tent and sleeping bag provided.
Over the past several seasons, hover fishing for Salmon has been the focus right outside the mouth of the Deschutes River. With that said, I brought several of our new SST Hover rods for everyone to try out. To my surprise, when I arrived the salmon fishery had been shut down a few days prior due to low runs. Now what to do? Luckily I brought along several of our new Deadeye Walleye rods for the participants to try as well.
The Fishing
The fishing this year was pretty good even with the lack of salmon. We all had to change up our tactics and focus on getting these media folks on some fish. The majority of guides that fish the event with us are all salmon and steelhead guides and were almost clueless when it came to walleye and bass.
The first day of fishing I went out with Rick and Kyle of Adriatic Outfitters. I loaded up the boat with
Okuma Deadeye Pro and Classic Bottom Bouncing rods
as well as Deadeye Pro Jigging rods. The jigging rods were loaded up with the new Okuma Epixor XT 30 size spinning reels spooled up with YoZuri Super Braid in 20 and 30 lbs. The bottom bouncing set ups each had either Komodo SS 350 size reels or Coldwater 350 Linecounters.
For the bottom bouncer set ups, we were dropping down 3oz of lead in about 25-40 feet of water pulling nightcrawlers behind Dutch Fork Butterfly Blades. As long as you had a nice juicy crawler, you were going to get bit. The butterfly blades didn't need much to get them spinning and they did drive walleye and smallmouth pretty wild.
Jigging for Walleye
After a couple of hours of pulling the bottom bouncers, we switched over to jigs. The jig fishing is quite a bit more fun in my opinion and the action was a little bit better. One of the sponsors of the event was
TTi-Blakemore Fishing Company
. They are the makers of Roadrunner Baits and a whole lineup of "Runners." These baits are all pretty unique in that they all have the popular Underspin design.
We'd rig the various runners with a light 8lb mono leader and we were good to go. We had a variety of baits to choose from. They provided Road Runner Bucktails, Salmon Steelhead Runners and Randy's Swim'n Runner which is a great bass bait that Bassmaster Classic Champion Randy Howell helped design.
Bucktail Pro
Lets start with the
Road Runner Bucktail Pro
. This is similar to a standard bucktail style jig, but with the small blade running underneath.
Pitching up along the rocks for smallmouth and dropping down on the deep structure with a nice easy rise and fall seemed to be the ticket on these guys.
We didn't manage any big bass, but we did manage a bunch of them.
Randy's Swim'N Runner
The next bait is the
Randy's Swim'N Runner
. This is an underspin style bait very similar to the Bucktail Pro but with a soft plastic body rather than the actual bucktail.
I fished these with a little bit more erratic jigging action than the other jig heads. With the longer body, I found that these give a nice kicking action with the boot tail design as well as a nice flash with the little chrome blade underneath. It didn't seem like it took much to get the blade spinning which is a very nice feature.
This jig seemed to account for a few bigger fish.
Salmon and Steelhead Runner
Another really cool bait that we had the opportunity to fish was the
Salmon and Steelhead Runner
. These are an ultra spread marabou jig head with a flashy spinning blade.
I was fishing these with a crawler behind them buried right into the feathers. As you work this bait off of the bottom the feathers would slim down but as soon as you stopped, they would poof up nicely giving a huge profile. I am not sure if all of their marabou jigs do this, but this one did it nicely.
Road Runner Bleeding Bait
The second day of the trip I fished with Marc and Owen of Twisted Waters Guide Service. These guys are die hard salmon guys, but needed to make the switch for walleye and bass.
The last of the jig heads that I used were the
Road Runner Bleeding Bait jig heads
. These are a naked head design with the aforementioned spinning blades that give these baits great flash.
This bait was being fished with a night crawler threaded on as far as possible. I was using a fairly subtle rise and fall jigging action with these heads. Chartreuse and green were my go to jigs right under the John Day Dam on the river. In fact, this bait combo accounted for my largest walleye of the week. Unfortunately my guide got pretty excited as soon as it came aboard and sliced the neck trying to bleed it before I got any good pictures. But this fish was a toad. We were right below the dam and starting our first drift when this thing hit.
The key to feeling these bites was a sensitive rod. The Okuma Dead Eye Pro rods matched up with the Epixor XT was the perfect combo for jigging up these fish. The 30 ton graphite with the YoZuri braid helped me feel each bump. It was great!
They say the next record walleye will come out of the Columbia as 15+ pounders are not that uncommon. It'll happen in the March timeframe, and boy I hope I am there to experience it.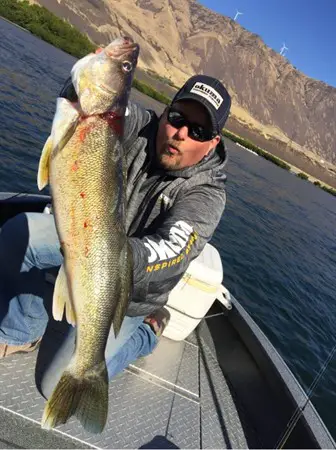 For more fishing reports and reviews, be sure to follow me at Davey's World.
Happy Fishing!
Davey