Late Season Trout Fishing Yakima
by Rob Phillips, November 01, 2018
If you haven't had your fill of fall fishing you might want to check out one of the ponds or lakes in Central Washington. While many lakes around the state are now closed to fishing, virtually all of the lakes in Yakima and Kittitas County are still open for fishing. And, while most have not received any newly stocked trout, most still have a few fish swimming around in them, and this time of year you can have the lake to yourself. If you can wait until the first of December, North Elton Pond near Yakima, will be open to fishing and should provide an excellent shot at some 2,000 freshly planted rainbows that are a pound or more in size.
Located just off I-82 near Selah, North Elton is closed to fishing until December 1. With the newly planted trout, and the fish that carried over from last year, anglers should find some excellent trout action there in December. Depending on the weather and the temperatures, anglers may find open water or ice on the Central Washington Lakes. Be careful if there is ice, as the early season is a dangerous time to be on hard water.
If standing crotch deep in a cold river making doubles hauls sounds like fun, then now's the time and the Yakima River is the place.
One of the few rivers in the state that remains open all year long to trout fishing, the upper Yakima River (above the Roza Dam) can provide some excellent winter trout fishing.
The catch-and-release portion of the river is mainly thought of as a fly fishing hot spot. And it is. During every month of the year fly casters work the Yakima in search of now-native rainbows, some pushing the 20-inch mark. But, because the rules allow barbless, single-hooked lures as well as flies, anglers who want a fun day of late fall fishing with light spinning gear can also get in on that action.
Yakima in late fall can be cold but productive.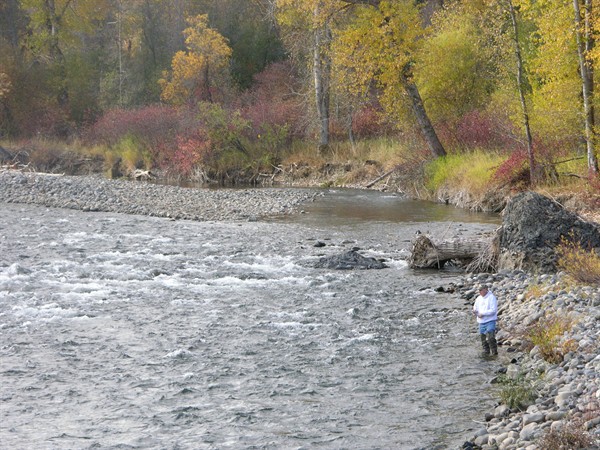 Surface flies like small size 20 & 22 midges in black, olive and gray work well this time of year. And blue wing olive baetis will work too.
Another good top water imitation is the Griffith Gnat. It imitates a whole bunch of midges that have formed a ball that is floating along just waiting to be sucked up by a big Yakima 'bow.
If the fish aren't feeding on the surface, nymphs like stoneflies, caddisflies and mayflies with gold or standard bead heads will work as well.
And, if you want to try to double your pleasure and catch a few fish for the holiday smoker, using small whitefish flies in brown, black or yellow will also work. When a fish hits you don't know if you have a big rainbow or a nice whitefish.
Spin-casters will have luck using a small 1/8-ounce Rooster Tail or Vibric Rooster Tail in black, brown or white. Because the water temperatures are dropping, the Yakima River trout can be lethargic. But that doesn't mean they won't hit a small spinner worked through some of the deeper pockets.
No matter how cold it gets, Yakima River trout feed all year long and because the river is open, trout anglers can have some fun playing catch-and-release. Is it ever too cold? Not according to some of the hardiest of Yakima River anglers. Most will tell you that as long as the line will go through the guides, it's not too cold to fish the Yakima.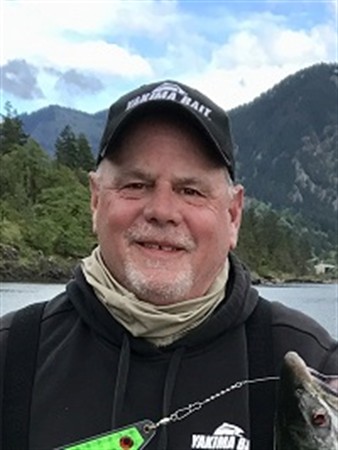 Rob Phillips is a lifelong Washington resident and has been fishing around the state since 1970. He is an award winning freelance outdoor writer who has been writing professionally since 1986. His weekly column "Northwest Sportsman" appears every Thursday in the Yakima Herald-Republic. He can be reached at rob1@spdandg.com