November Clearwater Steelhead
by Kyle Jones, November 09, 2018
When most people think of November they see Thanksgiving, Turkey, Football, and all the family events that surround the beginning of the Holiday Season. So, while most are decorating houses with fall spirit and making their Thanksgiving day plans, our minds become solely focused on the big, brawling, summer Steelhead that call Idaho's Clearwater River home. Idaho's Clearwater River is a special place where B-Run Steelhead average 12-14 pounds, often go 17-19 and a few times a season we put solid 20 pound fish in the boat.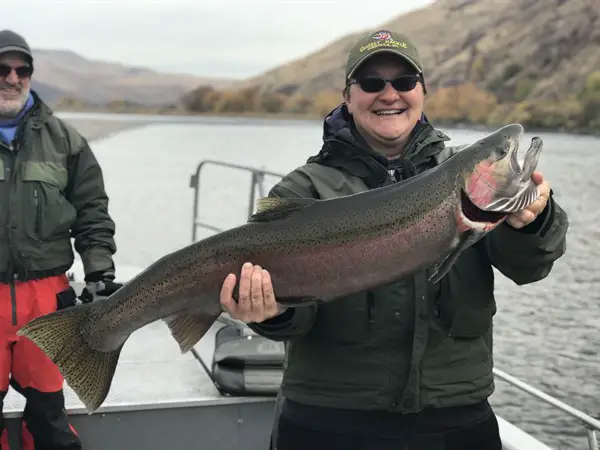 Idaho's Clearwater River is born in the high mountains along the Montana and Idaho border. This wet, steep, thick country spawns a river that flows east through the towns of Kooskia, Kamiah, and Orofino before finally meeting the Snake River at Lewiston. This is the same path the Lewis and Clark expedition traveled, and is the ancestral homeland of the Nez Perce Tribe.
The Clearwater is world renown for the large steelhead that call it home, and the month of November is arguably the best month of the year to spend time chasing these amazing fish. Summer Steelhead bound for the Clearwater start their journey at the mouth of the Columbia River in August, and by the time November rolls around most of the fish heading here have crossed Lower Granit Dam (the last of 8 dams Idaho Salmon and Steelhead must cross) and have taken up residence somewhere between Lewiston and Kooskia. Unlike many of the other Columbia River salmon species Summer Steelhead, and particularly the Clearwater's B-Run steelhead don't seem to be in a big hurry and will often mill around throughout the river system for weeks or even months before finally heading to their spawning grounds or hatchery release point. This behavior gives us the opportunity to target these fish from September – March.
Access along the Clearwater is fantastic, as Highway 12 runs the entire length of the open section from Lewiston to Kooskia, and there are fantastic holes, runs, and tail outs all along this route. There are numerous ways to target Clearwater Steelhead and because of its access and temperament anglers can often find plenty of water that suites their chosen methods. Our favorite methods are to side drift or back troll plugs. As full time professional guides these two methods give our customers the absolute best chance to get into these big fish.
Like mentioned previously the two methods we employ to consistently put fish in the boat for our customers is to side drift bait, yarn, beads, ect., or back troll plugs or divers and bait. River conditions almost always dictate which method we choose. When the water is low and clear, or when water levels are on their way up we often look to back troll plugs, but when water levels are slightly colored or the water level is dropping ( particularly after a heavy rain) we opt to side drift. Reason being that when the water is low and clear we are trying to make sure our plugs get to the fish before the fish feel the presence of the boat, and when water levels are on the rise and fish are moving up stream at a rapid rate the action of the plug dangling in their face causes a violent territorial response. When water color is not super clear and when levels are dropping back after a heavy rain event the fish seem to be very comfortable. This is when side drifting is our go to technique. There is something about a naturally drifting bait or yarn ball that steelhead can't resist.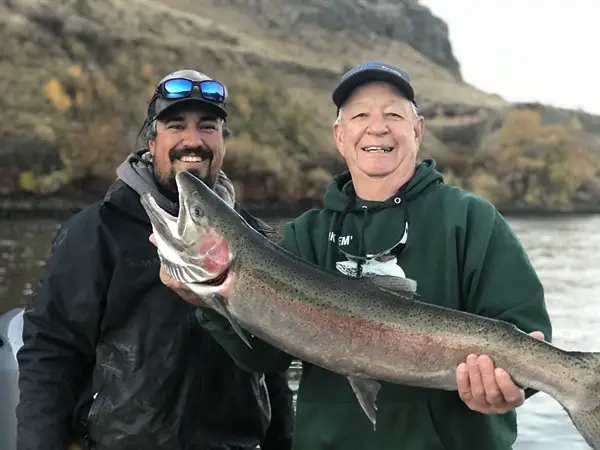 For anyone looking to head to the Clearwater for a fall adventure the Clearwater Valley has plenty of hotels, restaurants, tackle shops, and other essential fishing accommodations in the towns of Lewiston, Orofino, Kamiah, and Kooskia. This is a welcoming place were steelhead fishing takes high priority and your business will be greatly appreciated. Our river communities depend on fishing dollars, and are more than welcoming to the traveling angler. If looking for a guided adventure we hope that you give us a call and let us show you why we think this is one of the most special places on earth.
Jones Sport Fishing is owned and operated by Kyle and Dani Jones. Kyle's passion for the outdoors has driven him to commit to making his living as a professional fishing guide. Kyle prides himself in his commitment to make sure that your fishing trip meets and exceeds expectations, and is dedicated to serving his clients. You can follow Kyle on Northwest Fishing Reports and his web site JonesSportfishing.com